Our mission is be the leading direct-to-consumer e-commerce site specializing in the unique side of Golf. Our golf shop offers over 1,000 Golf Books, Golf Videos, Golf Art, Golf Gifts and more. We are committed to customer service and the best products and services the web has to offer.
– GolfParsuits.com provides the largest selection of unique golf products. Our aim is to keep you informed, while providing an amazing selection — and to push the envelope of interactive Web functionality and secure online shopping ease.
– We are always glad to receive feedback from visitors — the best way for us to meet your needs is to know specifically what you want, so please, drop us a line. http://www.nyacasinos.org/
GolfParsuits.com features over 500 golf products, Golf Videos, Golf Books, Golf DVDs and more! Browse golf categories from tournaments, golf history, kids golf and golf rules to golf instructions from golf's greatest players. Don't want to use your credit card online, you can now Pay by Check or Money Order. Looking for a great gift, but not sure? We now offer gift certificates. Perfect for any occasion. Looking for customized ideas for golf tournaments, events or sales incentives?< Take a look at our very unique solutions!
Golf Audio
GolfParsuits.com carries over 30 golf audio tapes and cds titles from most golf instructors. We offer titles from instructional to the history of the game. Please select your area of golf interest from the selection below. For a complete list of all Golf Audios, select the first item in the list below.
US Open GolfParsuits.com offers US Open Tournament Videos and DVDs Also find other items regarding the US Open Tournament. Are you interested in betting on golf? Then check out our betting sites
British Open GolfParsuits.com offers British Open Videos and DVDs from 1998. Also find other items regarding the Brisitsh Open.
Masters Tournament GolfParsuits.com offers Masters Tournament Videos and DVDs from 1986. Also find other items regarding the Masters Tournament like books on Agusta and history of the Tournament.
PGA Tournament GolfParsuits.com offers PGA Tournament Videos and DVDs from 1994. Also find other items regarding the PGA Tournament. Ryder Cup GolfParsuits.com offers Ryder Cup Tournament Videos and DVDs from 1995. Also find other items regarding the Ryder Cup Tournament.
Golf Rules
The main rule of golf is to play fair. Even on the back cover of the rule book it states to 1) play the course as you find it 2) play the course as it lies and 3) if you can't do either, do what is fair. So fairness is a key to golf. There will be times when playing golf that you are tempted to cheat. Standing out in the woods and your ball is right behind a tree, the temptation to kick the ball over a few feet to get a good shot. Don't do it! Golf is a game of etiquette and conscience. The game will be more rewarding if you always play by the rules and play fair.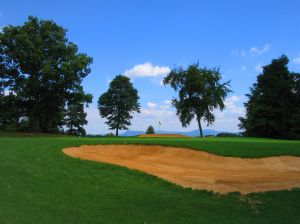 When starting to play a round of golf, it's always a good idea to read the local rules on the scorecard. These will give you guidelines that are specific to that course.
The official rules of golf in the US are governed by the United States Golf Association (USGA), but here are some basic rules to keep in mind when playing golf:
You must play the golf ball where it lies, unless there is a rule that allows you to move it.
The golf course may not be changed to gain an advantage, unless there is a rule that allows for a specific change.
If your ball is in a bunker or water hazard, your golf club cannot touch the ground or water prior to your actual swing. If it does, you must take a penalty stroke.
If you accidentally play the wrong golf ball (oops!), you get a two stroke penalty.
On the green, you may mark and lift your ball to clean it or get it out of another golfer's way.
When putting the ball must not hit the flag. If the golf ball does hit the flag, it is a two stroke penalty.
If you loose the ball in a water hazard, you can drop the ball behind the hazard and in line with the golf hole. You must take a penalty stroke.
If you loose the ball out of bounds, you can take a penalty stroke and then replay the shot.
If your ball is unplayable, you may take a penalty stroke and then drop the golf ball behind where the ball was and in line with the hole or drop the golf ball within two club lengths.
You are allowed a maximum of 14 clubs in your golf bag.
Golfers must tee off behind and between the tee markers. Never in front of the tee markers.
In addition to the rules of golf, golfers also need to adhere to the etiquette of golf. Fixing divots, not hitting into other players for safety, yelling "fore" if you do, being quiet while a golfer is hitting the ball, and playing at a good rate are just a few rules of the etiquette of golf that make the game more enjoyable for everyone.